EDUCATIONAL OFFERING
We work for a quality European college
Salesians Sarrià offers a broad range of teaching possibilities in Middle- and Higher-level VET, Spanish Baccalaureate and International Baccalaureate. All our courses encourage innovation and entrepreneurship in students through the implementation of different projects.
We work to offer Vocational Education and Training that takes companies' current needs into account, which is why we have adapted more than 90% of the cycles in Dual VET. The Spanish Baccalaureate courses constitute a cooperative learning environment, whereas the International Baccalaureate courses are designed to achieve greater student internationalisation.
International Baccalaureate
Spanish Baccalaureate
The Spanish Baccalaureate Is the Post- Compulsory educational stage chosen by students who wish to attend University or go on to Higher-Level VET courses
Para móviles hacer un segundo clic para iniciar vídeo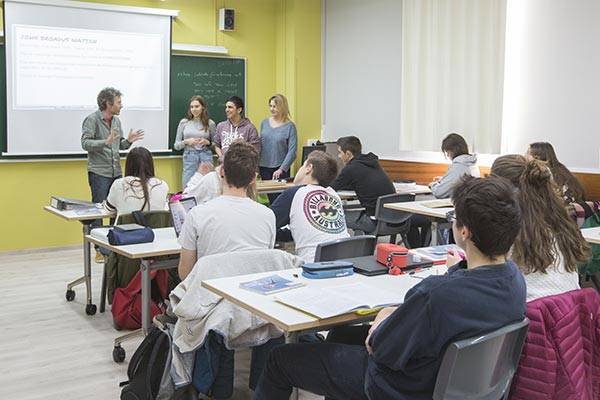 Salesians Sarrià offers three specialisations in Baccalaureate: Sciences and Technology, Humanities and Social Sciences and The Arts. These studies have a duration of two academic years and are divided into two entirely different areas: one containing subjects that are common to all the courses and another with specific subjects for the area of specialisation.
The Spanish Baccalaureate classes are very active and motivating, promoting interaction between the student and the group in order to facilitate learning. This approach promotes autonomy and cooperative work between groups. Our objective is to provide a comprehensive and multi-purpose education that gives them the tools they need to complete their higher education successfully.
Our Spanish Baccalaureate studies promote English, which is indispensable in the academic and job world. Our hard work and effort has allowed us to be certified as a multi-language school through our participation in international projects and the promotion and teaching of foreign languages.
International Baccalaureate
Salesians Sarrià is authorised to teach the International Baccalaureate® (IB) Diploma Programme that prepares students for access to national and international universities.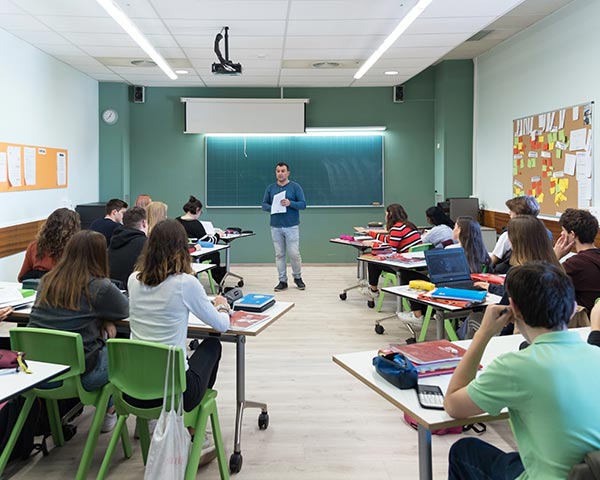 The objective of these studies is to develop the intellectual, personal, emotional and social skills the students need in order to live, learn and work in an increasingly more globalised world. For this purpose, the students learn in a cooperative environment that fosters their autonomy, since the teachers act as guides and companions to them in the course of the two academic years.
The Diploma Programme (DP) is intended for students aged between 16 and 19 and instils an international mentality in them so that they will acquire a higher degree of personal and social responsibility.
The objective of this process is to make sure that students are investigative, well-informed and well-educated, analytical, good communicators, honest, openminded, supportive, bold, well-rounded and reflexive.
The International Baccalaureate is a two-year course recognised by the Spanish Baccalaureate (LOMCE) + the general phase of the PAU (University Entrance Examination).
Vocational Training Courses
The objective is to train for a profession in a practical and motivational setting. In this way, young people acquire the knowledge they need to make their way in the job world in a highly professionalised environment.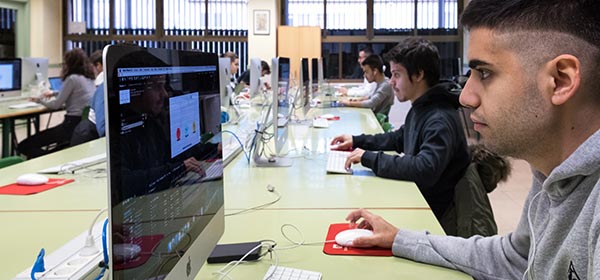 Salesians Sarrià features an extensive range of VET courses from different professional families that enables us to offer 17 different training cycles, 90% of them in the Dual format which is split between in-college and in-company training.
Vocational training is divided into two levels, intermediate and advanced.
Intermediate vocational training courses qualify students as technicians and they are equivalent to level 3/4 in the European Qualification Framework (EQF) and advanced vocational training courses as advanced technicians, equivalent to level 5 in the EQF.
Reasons for doing vocational and educational training
Working for projects with PBL methodology
Development of professional competencies
The promotion of innovation and entrepreneurship
Dual VET, in-college and in-company training
AREA OF OCCUPATION
Administration and Management
Graphic Arts

Electricity - Electronics


Energy and Water
Mechanical Production


Information Technology
and Communications

Vehicle Maintenance
Sociocultural and Community services
MIDDLE-LEVEL VET
Administrative Management
Digital pre-printing

Electrical and automation installations*1
-
Telecommunications installations *
Mechanics


Microcomputing systems
and networks

Vehicle - Electro-mechanics
Care of people in a Situation of Dependence
HIGHER-LEVEL VET
Finance and administration
Design & Creation of print
publications & Multimedia
Industrial & robotics automation
-
IT & telecommunications systems
Renewable energies
Mechanical production programming*
-
Mechanical manufacturing design*
Cross-Platform aplication development*
-
Online IT*
1 Recognition for the performance of tasks equivalent to the basic level accreditation given for working with Low Voltage.
* Possibility of dual qualification in three years of study.
Provisional details (subject to change by the Catalan Department of Education).
Dual Vet
The transition from the world of education into the job world is one of the most important changes facing VET students.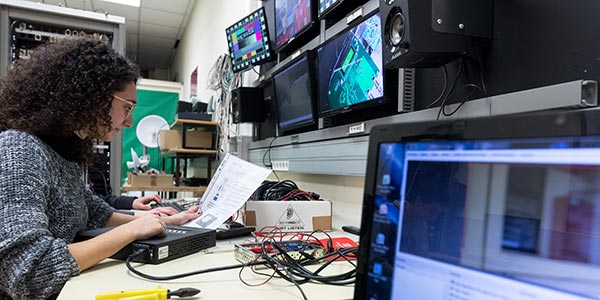 The Dual VET methodology is a combination in-college and in-company training, enabling students to hone their skills and competencies and improve their relationship with the company.
The students thus achieve an added value and can cater to the production requirements of the companies that collaborate with Salesians Sarrià.
The college is part of the Alianza para la FP Dual, an organisation comprised of companies, institutions and educational centres whose objective is to improve the employment rate of young people by offering a quality Dual VET.
Conctact information
You can reach by public transport (metro, rail and bus) and even by bicycle (we have a car park at the school).
A model college
We have an innovative model of educational activity based on the relationship between students and business.
Our International Relations Department coordinates work experience and stages in different European countries.