INTERNATIONAL RELATIONS PROGRAM
We work for a quality European college
The International Relations department collaborates in educational tasks in order to ensure that our students receive a personal, professional and intercultural training that guarantees a good point of departure into the European employment and academic market.
We promote foreign language-learning by participating in international projects and fostering the internationalization of the educational community.
Our students can prepare for Cambridge official exams as we are an authorised preparatory centre.
A school open to Europe and the world
Salesians Sarrià is working hard to solidify itself as a quality European college
MULTILINGUAL SCHOOL CERTIFICATE
We have the multilingual school certificate awarded by the Escola Cristiana de Catalunya Foundation that acknowledges us for promoting the internationalisation of the educational community through participation in international projects and language-learning.
This stamp is awarded to Christian schools that demonstrate the application of various multilingual initiatives and becomes a guarantee of innovation, quality and monitoring of the multilingual project.
Exchange Programs
Mobility provides students other ways to relate and understand a world without borders
We give our students the chance to participate in exchange programmes with schools from abroad. This programme allows the students to travel to a European country and to host a student from another country in their own home.
EXCHANGES IN THE ACADEMIC YEAR 2018/2019
Dürer Gymnasium, Nuremberg, Germany
Fritz-Winger-Gesamtschule, Ahlen, Germany
Nykøbing Katedralskole, Nykøbing, Denmark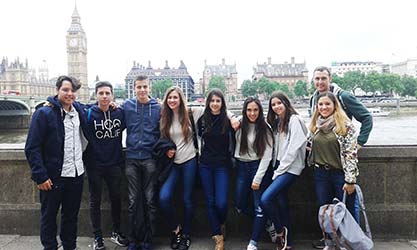 Language courses
Language training proposal for the development of our students and their academic and professional projection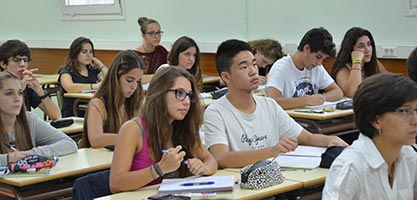 We offer our students two language course midday: English conversation classes and preparatory courses for the First Certificate official exam.
All groups are small and the teachers are experienced native speakers.
Language assistants
A group of foreign university students collaborate with Spanish Baccalaureate and VET teachers to improve the students' English
English is increasingly more necessary in the job world. This is why Salesians Sarrià works to allow its students to complete their education with a good and certified level in the language.
One of the actions that we have been implementing over the last six years is our collaboration with European universities by hosting their students to obtain work experience through the Erasmus+ Programme.
The language assistants, whose mother tongue is English, take part in different VET and Baccalaureate classes, working on technical questions, reinforcing grammar and also providing conversation support. This training is provided by means of the CLIL methodology, which provides the possibility of learning specialised English according to the area of study.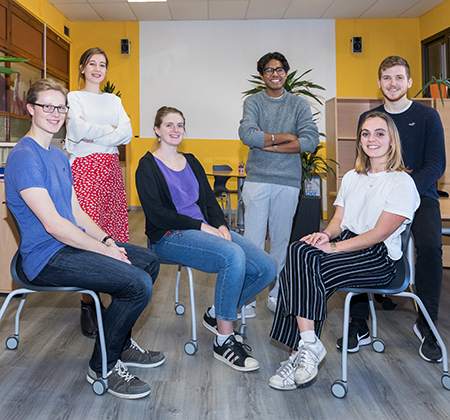 "English takes on a whole new dimension for the students with our assistance, since we give them access to the language in their professional and everyday life. It provides them with added value when looking for a job because they have a more technical foreign-language training".

"Our collaboration with the college benefits the entire educational community, since besides participating in the classroom in the learning of English, we also work with different departments and teachers in order to help them in their daily work of pre­paring classes".

"This programme makes it possible to forge a personal relationship with the students, through which we learn more about them and their concerns. This knowledge also allows us to adapt the classes to their interests, focusing on the area of work".

"Collaboration on the programme allows us to explain our customs to them and generates an interest in our country's culture and current affairs as well as what education in our home country is like. This methodology generates a relationship in which everyone benefits".

"Collaboration with the school is a very enriching experience since we get to teach the students and learn from them at the same time.Our classes are adapted to their edu­cational needs, we work with a more focused language, while also reinforcing the areas in which they have more concerns".

"We reinforce the work done by the teachers.The teaching staff at Salesians Sarrià have a very good command of English, and this is basic for the students' professional future. We teach them a technical and colloquial language that allows them to work on international projects".
Erasmus + Program
A group of foreign university students collaborate with Spanish Baccalaureate and VET teachers to improve the students' English
The Erasmus+ programme, besides improving professional prospects, also provides greater scope and a greater capacity to establish social relationships. It is also part of the European and International Training Mobility and Cooperation Programme in professional education managed by the Catalan Department of Education.
Teacher training
Our staff is essential for students to achieve their goals and promote the international mentality
We offer teachers the chance to participate in different international programmes in order to receive training in English and go on training stays in European countries. We also provide training with the CLIL methodology.
SANTIAGO FUENTES VET teacher
HOLLAND, NOVEMBER 2018
"I was given the opportunity to visit the Deltion College in Zwolle in
Holland. There, I shared teaching experiences with the members of
the teaching team of the ICT department. I had a very interesting
time participating in classes and pedagogical methodologies with
students and teachers in the speciality".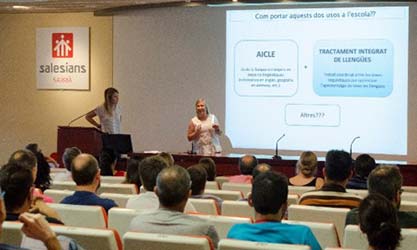 Conctact information
You can reach by public transport (metro, rail and bus) and even by bicycle (we have a car park at the school).
A model college
We have an innovative model of educational activity based on the relationship between students and business.
Our International Relations Department coordinates work experience and stages in different European countries.